London Bus Museum, October Transportfest, 2018, a glowing testimonial
Just to say on behalf of London Bus Museum (if they haven't contacted you already) a massive THANK YOU to you and your Livery professionals for such a FABULOUS day on Sunday.
Talking to a sample of mums and dads and kids, my impression also was that P rofessor Crump, Mr. Twister and Pauline's whizzo Punch and Judy show really put the icing on the icing on the cake for a wonderful family day out. AND a mass turnout by the Andrews Clan. Got to be a good sign and an opportunity for me to reconnect with their trust. Phew!.
What a great show we put on – and didn't the punters love it? What a team! The 'behind the scenes' heroine was Patsy who issued 240 tickets and collected over £1125 towards funds. Patsy did the right thing by staying open through lunch – dozens of people bought tickets during that hour.
Weird the 'funny moment' I had Sunday afternoon. I think It was caused by some flu-like bug which came on incredibly fast; we had been to our grandson's school Harvest Festival celebration last Thursday, 200 bright little faces, but a lot of them coughing and sneezing their lungs up, so probably where I got infected. By the time we got home Sunday evening, my throat was so sore that I could hardly speak and Patsy said I was making a sort of growling noise. But a lot better by this morn, thankfully, although still have aches and a very husky voice – don't like this senior years business!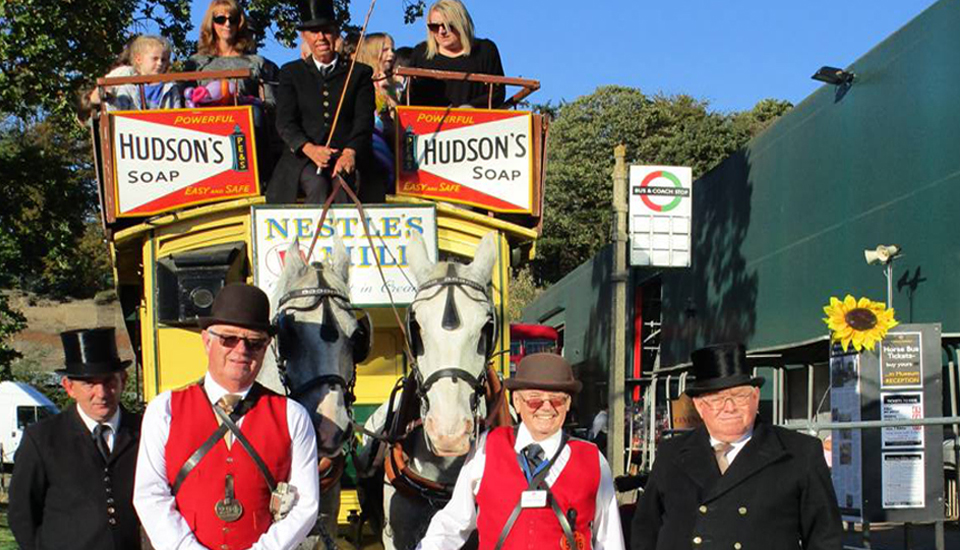 The Star Omnibus Team stands in the bright sunshine at TransportFest, 21st October 2018 between turns. Almost 250 passengers enjoyed the extraordinary experience of how people travelled 120 years ago
Derek has sent me the very fine photo below taken with his camera by a nice lady, not sure who she is , but if I can get her name too, I will attribute it to her and will have a go at sending the picture to the LBM magazine. Have tweaked it up a bit on my Mac's Photoshop, so a bit better rendering that the original image.
Tony, could you tell me the names of Lee and the lady driver and of course the two gorgeous horses, which I think are Gelderlands (Dutch Warmbloods?) not Persherons like Vesper and Beatrice? Lady readers like to know these things!
Very exciting the visit of Andrew English, what a scoop by you! Will it be possible to find out when to buy the DT? If I remember from my time at the Sunday Times, these feature went out during December, sometimes over Christmas.
We ought to talk again soon as it looks as if my fundraising advisory role at LBM seems to be gaining traction and we have already begun to be urge the Board to put together a proper fundraising plan, rather that trying to scratch up money piecemeal. I will be meeting with my assigned Board member about this tomorrow.

"I thought you would like to know that the Regent Street Association estimate that 340,000 people were on the street on 3 July – a very impressive number! Once again thanks for all your help and support. Best wishes"
Jo Hall, Strategic Programmes Manager, London Transport Museum