Massey Shaw Historic Fire Fighting Demonstration Team
A proposal by Tony and Christopher Drewitt Liverymen of the Worshipful Company of Firefighters. Tony and Chris own and maintain two restored Shand Mason of Blackfriars horse drawn fire engines.
The first a 22 man manual pump of 1889 and was an appliance under the command of Captain Eyre Massey Shaw is in full working order and once belonged to past master Bruce Hoad. The second a 1904 steam pump built in London and served with Hythe fire brigade Kent, this engine is also in full working order.
Horse power supplied by JEM Carriages under the direction of Joanne Moore and who is now a member of the Company.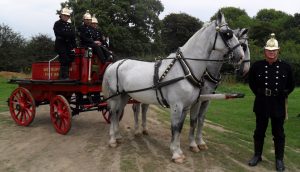 22 man manual pump of 1889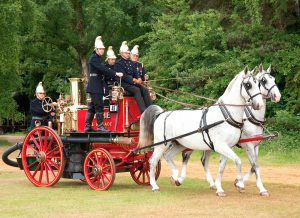 Steam pump of 1904
Aims and objectives
To form a team of trained crew who can demonstrate the historic firefighting ability that once existed. To involve recruited LFB cadets who have learned the discipline and techniques required to operate these appliances.
The skills that are used are horsemanship under the direction of Chris Drewitt Royal Mews, steam engineer, Derek Wheeler and firefighting skills LFB.
To involve LFB and introduce a training programme.
To ultimately attend City events such as The Lord Mayors Show and Cart Marking and also county shows i.e. South of England, Windsor Horse show, British Driving Society, regional shows and fire service events etc. Produce a show par excellence in a way similar to the British Army having The Kings Troop.
To produce awareness of the WCF aims and the support it gives to the LFB cadets this visual display would be accompanied by a WCF stand to have visual displays and aim to recruit new members both for the LFB and WCF.
To be an educational arm for schools and organisations.
To take this to such a high standard that we can encourage top sponsorship for the funding of the project and appearance fees for some shows enabling the team to have its trade stand, training and transport horse boxes and support vehicles suitably branded.
The appliances are owned by Tony and Chris and include all equipment, uniforms and insurance requirements.
Both machines have been used very successfully over the last twenty years

"Thank you for providing the entertainment last Sunday. It was great fun for all the kids. We could tell you put your heart and soul into your act. Many many thanks. Our rating would be 5 out of 5. Congratulations on this 5/5 rating and thank you for all your hard work!"
Michael Latham